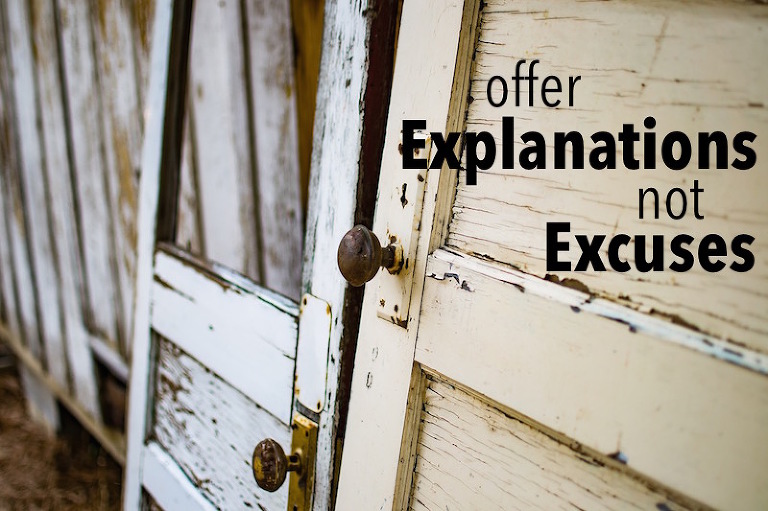 Have you ever wondered what the difference is between an excuse and an explanation? The line between the two can be blurred and nearly indistinguishable. Because the real difference comes down to motive:
An excuse is a defensive reaction made in an attempt to deny some or all responsibility.
An explanation is information intended to clarify the circumstances of an event.
It takes courage, self-discipline, and practice to resist the urge to give an excuse and not just an explanation. Excuses are simply a form of self-preservation—our natural instinct from the time we're children to avoid embarrassment, disappointment, or punishment.
Excuses and explanations do go hand in hand; sometimes when we're under pressure to respond to a question or accusation, these two responses intermingle into a combination of helpful clarification and defensive self-preservation. We may think we're simply explaining the circumstances, but in reality we're also hoping to mitigate our responsibility. It can be hard to differentiate between the two. That's why it takes self-discipline and practice.
An essential strategy for achieving greater success is to be fully accountable, and to do that you must refrain from giving excuses. If necessary or if questioned, explain the circumstances, but carefully avoid the temptation to deflect blame for the sake of pride or self-preservation. Ultimately, your commitment to accountability will reap far greater benefits and better guard your reputation than attempting to protect your ego and avoid blame by giving excuses.
[This article is adapted from chapter 4 of my book, Be An Inspirational Leader: Engage, Inspire, Empower]