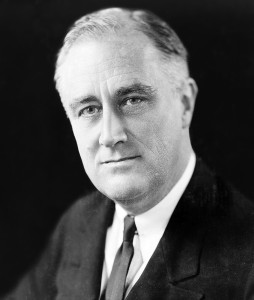 In my continuous quest for worthwhile learning and adventure, I recently visited the Franklin D. Roosevelt Presidential Library and Museum located in Hyde Park, NY.
Franklin D. Roosevelt famously said, "It is common sense to take a method and try it. If it fails, admit it frankly and try another. But above all, try something." Roosevelt was a man of action; he accomplished remarkable things because he had confidence and wasn't afraid to try.
Roosevelt was a bright young man who developed an interest in politics and grew up admiring his distant cousin, President Theodore Roosevelt. When FDR was encouraged to run for public office while in his late twenties, he had the confidence to try it, and he became a New York State Senator, effectively launching his political career.
Roosevelt demonstrated a knack for politics, serving for three years on the State Senate before being appointed the Assistant Secretary of the Navy by President Woodrow Wilson. He appeared to have a very bright future in politics, working his way up the ladder to higher positions, with relatively few setbacks. But in 1921, at the age of 39, tragedy struck. Roosevelt contracted the debilitating disease commonly known as polio. The disease ravaged his body, leaving him paralyzed from the waist down.
Slowed but not stopped, Roosevelt devoted himself to his recovery and rehabilitation, determined that this tragic event wasn't going to mark the end of his political aspirations. Though he never regained the full use of his legs, Roosevelt's energy, optimism and perseverance never wore off. With the encouragement and aid of family and close confidants, Roosevelt decided to reenter the game of politics despite his handicap, confident that he could do it; he just had to try. Try he did, and in 1928 Roosevelt won the New York gubernatorial election.
Roosevelt served as the Governor of New York for two terms, proving himself to be a capable leader and winning the respect of his constituents. In 1932, Roosevelt campaigned for the presidency. The nation, caught in the throws of extreme economic upheaval, was weary; it had lost faith in its former hero, Herbert Hoover. Roosevelt offered something to the American people that they desperately needed – hope for the future. Just eleven years after contracting polio, Roosevelt became the 32nd President of the United States in a landslide election; however, the work had only just begun.
Facing the growing crisis of the Great Depression, Roosevelt was never disheartened. He believed he could help heal the nation if given the chance, and now as President, he had that chance. Roosevelt poured himself into the task, taking dramatic strides to enact new legislation designed to alleviate the financial woes of the nation. Roosevelt possessed more political savvy and a better relationship with Congress than his predecessor, enabling him to successfully pass bills that helped to slowly ease the nation out of crisis. Roosevelt new that the only way to change the tide of the Great Depression was to take decisive action; "One thing is sure. We have to do something. We have to do the best we know how at the moment… if it doesn't turn out right, we can modify it as we go along."
Great advice from the 32nd President of the United States!  Above all, try something!
Discussion: What is something you wish you had the confidence to just try? Leave a comment below!