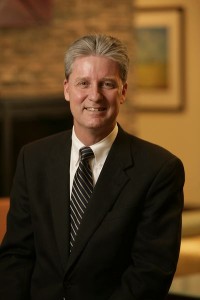 The standards we hold ourselves to in our personal lives most certainly bleed over into our professional lives, and vice versa. With that in mind, I asked senior healthcare leader Mark Dixon, President of The Mark Dixon Group, LLC, what his personal mission is in life; after giving it some thought, Dixon responded, "I wasn't sure I had a personal mission, but it drove me back to something that I started using years and years ago just about life in general, and it was three statements: First, work hard. Second, always be honest with folks. And third, have fun. And I do that – whether it's in the personal things I'm working on, or in my work life."
When asked who his role model is, Dixon immediately named his mother, Barbara, who also had a very successful healthcare executive career in nursing and consulting. Watching his mother taught Dixon how he wanted to live his life; "She was a good role model to help me see that you can have a lot of fun, but also if you work hard and keep a positive attitude, your positive attitude will serve you six times more than any sort of negative attitude."
Work hard. Be honest. Have fun. Keep a positive attitude. It may be a cliché, but giving 100% is what sets great leaders apart from good leaders, and Dixon is a great leader. He urges all leaders to "give 100% to whatever you're working on" and also to "maintain integrity and honesty." Dixon is exactly right! Working hard, giving 100%, maintaining integrity and honesty, having fun, and keeping a positive attitude will serve any leader well in all aspects of life.
When asked what wisdom he would offer to current and future leaders, Dixon provided more sage advice:"Regardless of what position you're in," he said, "you will always benefit from trying to examine the decision-making process from the person two or three levels above you – asking, 'how would they look at this situation?' What I find is when you encourage people to think about that, you will make better decisions for your organization, and people will see that you are focusing on the bigger picture," he explained. Dixon said this tactic has been core to his own leadership style.
He also advises those in service industries – particularly healthcare – to always think about how a decision is going to affect the customer or patient. It may sound simple – the customer should come first, but it's a value that unfortunately is sometimes forgotten. "Too often the question is either not asked or it's just assumed that it's not going to have any impact on patients," Dixon says.
Together, these values and tactics help make a good leader great. Mark Dixon loves what he does, and it shows not only in his personal successes, but is also reflected in the successes of the organizations in which he has served. Someone who is truly successful loves what he or she does, and Dixon honestly can't see himself as anything but a leader. I asked him what he thinks he would have done had he not chosen a career in healthcare leadership; "I'm guessing I would have landed in the leadership role at some sort of other organization," he said, "I do enjoy working with people. I can't imagine doing something all by myself."
Take the advice of Mark Dixon: Work hard. Be honest. Have fun. Keep a positive attitude. Do what you love.
Now that is a guaranteed strategy for greater personal, professional and organizational success!
For more information on Mark Dixon, go to http://www.linkedin.com/in/markddixon.