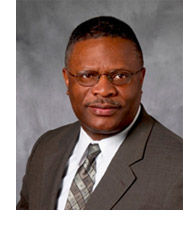 I recently had the pleasure of interviewing Tony Johnson, Corporate Senior Vice President and Chief Supply Chain Officer for Novant Health.  Novant Health is a not-for-profit integrated system of 13 hospitals and a medical group consisting of 1,124 physicians in 355 clinic locations, as well as numerous outpatient surgery centers, medical plazas, rehabilitation programs, diagnostic imaging centers and community health outreach programs.  Novant's 25,000 employees and physician partners care for patients and communities in North Carolina, Virginia, South Carolina and Georgia.
Tony's experience is broad, deep and global.  He is a retired army lieutenant colonel with an undergraduate degree in biology and a master's degree in materials management.  Tony has over 32 years of healthcare experience in materials management, facilities, support services and operations.  Tony has held leadership roles in military hospitals, a combat logistics battalion and a global logistics center.  In 1994, he was deployed to east Africa and served as the Healthcare Chief Supply Chain Officer for the Department of Defense, in support of the Rwanda Refugee Crisis.  He has also served as project lead in the design and implementation of satellite tracking technologies to track large shipments of medical supplies across Europe, Asia and Africa.
In response to my request that he briefly describe his time in the military, Tony said, "The army said you are going to Hawaii.  You are going to be a logistics officer.  I didn't want anything to do with it, but it was the best thing that ever happened to me because from the very beginning I was sent to a specialty school to start learning supply chain, and I have worked in supply chain pretty much my entire career."
I asked Tony to list important lessons he has learned during his successful career:
"I would say the first one is that if you prepare yourself well for whatever it is you want to do in life, the sky is the limit.  I learned that the more you learn, lead and push yourself, the more good ideas you produce, the more you want to lead, and the more willing people are to follow you.  If you are passive and settle for just staying in the background, people will allow you to do that but they will not follow you.

Second, I also learned that integrity is the cornerstone of everything you do.  My mother is a minister.  I grew up with integrity being the cornerstone, but when I went into the military I had some different perceptions.  I soon learned that integrity truly was the cornerstone, at least in the circles that I was in.  Your word was your bond.  People must trust you.

Third, I also learned that people follow leaders not because of a title, but because they trust you, and they trust that you are going to be, or do, or give whatever you say you will be, or do, or give."
Tony described the Novant supply chain as follows: "We have one supply chain organizational structure, and only one.  As chief supply chain officer, I have total accountability for everything that happens in every part of Novant when it comes to supply chain.  So every employee who works in supply chain ultimately reports back to me so that we have one person who keeps us aligned on strategy.  This has been invaluable in aligning everyone, and in executing one strategy, one system, one price, one organizational structure, and one of everything else."
Tony's personal and professional interests go far beyond supply chain.  He tells great stories about his many passions.  Just a few include:
Fast cars – he loves his Porsche and loves "driving fast and hammering it on a curvy road."
Astronomy – he has 4 telescopes and wants to spend at least a week at the Keck Observatory on Mauna Kea in Hawaii.
Music – a collection of thousands of songs on his iPod, hundreds of vinyl records and counting, loves to sing – particularly with his daughters, and he plays the guitar.
Travel – loves to travel and intends to see and experience even more of the world.
I asked Tony to describe what he hopes his legacy will be at Novant Health:  "To know that I truly made a difference, not just a short term impact, but a positive impact that will sustain long after I'm gone.  An impact that will assist Novant on its journey towards that remarkable patient experience we are striving for.  I don't say that loosely.  I think supply chain is an extremely important and integral part of any health system.  I think supply chain is one of the most underrated or underestimated parts of a health system in terms of the potential impact it can have, so we have made supply chain front and center at Novant Health.
Tony then proceeded to tell me a number of fascinating true stories regarding his personal experience regarding evolution of tracking devices and systems designed to track massive amounts of goods and materials being shipped to war zones and to disaster and relief areas around the world.  Imagine moving a complete 1000 bed hospital several thousand miles and then reassembling and operationalizing that 1000 bed hospital.  Now that's logistics!
If you would like to spend a fascinating hour with a very unique, interesting and successful person, I recommend Tony Johnson!
Tony will be speaking at the Healthcare Supplier/Provider institute meeting, April 9-10, 2012, immediately prior to the MedAssets annual meeting.  To learn more about the HSI meeting please click on the following link where you can also register online
http://www.jhconline.com/healthcare-supplierprovider-institute-meeting-2012.html.