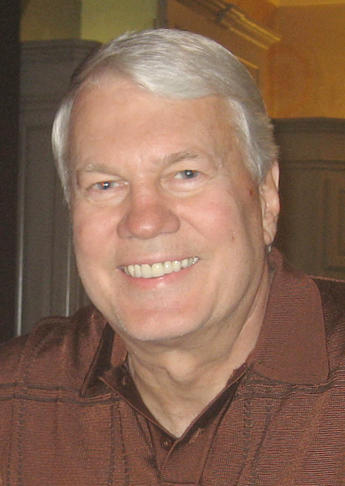 The healthcare industry lost one of its very best on Father's day, June 21, 2009.  Marlowe Senske, an incredibly gifted, kind and caring inspirational and servant leader, lost his courageous three year battle with Chronic Lymphocytic Leukemia.  Marlowe was admired, respected and yes, very much loved by thousands of healthcare executives across America.
Marlowe's distinguished career in healthcare leadership included wide-ranging expertise in all areas of creating, developing and leading successful healthcare businesses.  He created unique healthcare delivery systems and cost-reduction strategies for hospitals.  Marlowe had special expertise in hospital operations, healthcare system development, the healthcare supply industry, GPO operations, as well as start-up healthcare service company development and operations.
Marlowe was passionate about every aspect of life.  He loved living… and he lived and served so very well.  Marlowe was all about strong, effective and long-lasting relationships.  He was a world class role model in creating, nurturing and appropriately leveraging excellent relationships for the benefit of all.  He led by example.
Marlowe was a family man… passionately dedicated to his wife Betty, his children and all other members of his family… particularly his 8 grandchildren.  Marlowe enthusiastically gave his family much of his most precious resources… his time, energy and unconditional love.
The funeral was perfect… a superb and uplifting inspirational celebration of a beautiful and highly successful life… one very well lived.  Gary Senske, Marlowe's older brother and only sibling, read and elaborated on a letter he had written to Marlowe to be read at the funeral.  Doug Clark, a retired senior healthcare executive who has been a close friend of Marlowe's since grad school gave a moving and uplifting tribute.  Stuart Baker M.D., a colleague and best friend of Marlowe, also gave a very insightful, moving and uplifting tribute.  Just a few weeks earlier, Marlowe had personally asked Doug and Stuart to say a few words at his funeral.
One of Marlowe's sons-in-law spoke on behalf of the family.  Again, a moving, uplifting tribute filled with overwhelming love, respect and grief of the family.  Betty and friends had created a wonderful, compelling slide show of several hundred pictures featuring Marlowe with family, friends and colleagues.  The pictures, shown with beautiful background music, covered Marlowe's life from beginning to end.  Pictures say and communicate so much about a person's life and values… and this was certainly no exception!
A few days following Marlowe's death, I asked Harla Adams, who worked closely with Marlowe for the past five years as Executive Director of the Healthcare Supplier/Provider Institute, if she would send me a list of the characteristics and attributes she most appreciated about Marlowe.  She had no idea the list would be published.  The following is Harla's list.
Integrity ~ Compassion for others ~ Respect for others ~ Love for his family ~ He was a great Bumpa (Grandpa) ~ Always did what he said he'd do ~ Led by example ~ He was a fighter ~ He didn't give up ~ Positive attitude ~ Never focused on self – not self-absorbed ~ Good listener ~ Always asked for my advice or input and truly cared what I said ~ Wonderful mentor ~ Loved life ~ Always showed sincere appreciation ~ Was loved by so many ~ I never saw him mad ~ Didn't question "why me?" ~ Always wanted to help ~ Genuinely kind ~ Good friend ~ Always appeared happy ~ Never complained.
Hays Waldrop, Founder and President of the Institute of Healthcare Executives and Suppliers sent me a note saying,
"Marlowe had a profound impact on me.  He was a walking blueprint on what a true executive, friend and gentleman should be!  We lost a titan of a man… a man that I looked up to and really admired.  One quality, among many, that stands out to me was that he was a thoughtful listener.   He asked thoughtful questions and made me feel like he really wanted to hear what I had to say."
Anthony J D'Angelo wrote
"Wherever you go, no matter what the weather, always bring your own sunshine."  Marlowe always brought his own sunshine… and plenty more for everyone involved.
Ben McKibbins, a retired hospital CEO and his wife Loren sent me a note saying,
"When you walked into any room where Marlowe was, he always made you feel welcome.  He was refreshing and uplifting.  It was always a pleasure to be around him.  He was a radiant friend."
On a personal note, I had the opportunity to visit with Marlowe in his hospital room on Friday, June 19.  As I turned into the parking lot next to the hospital, I was greeted by Mark McKenna, former President and CEO of Novation, who had also come to visit Marlowe.  When I got out of my car, I saw Pat Vick, Marlowe's long time administrative assistant and personal friend getting out of her car.  None of us knew the others were coming to see Marlowe.  We had a wonderful, wide-ranging visit and discussion including past, present and future.  Although very ill with multiple life-threatening problems and issues, Marlowe was alert and very much engaged in the discussion.
Before I left his room, I handed Marlowe a copy of an article I had written entitled, Be An Inspirational Leader.  I attached a personal note that read:
"Marlowe.  This article describes you.  You are an excellent role model.  You are, without question, a world class Inspirational Leader!  All who know you would and do agree.
Throughout your life and career, you have made tens of thousands of positive things happen and you have helped thousands of successful healthcare executives and many other people become even more successful.  Your positive impact on your family, friends, colleagues, and on many people you will never meet will continue for decades to come.  Thank you for who you are and for all you have done for so many.

God Bless Marlowe Senske.  A world class Inspirational Leader!  We thank you."
Less than 40 hours later, Marlowe was gone.  An unexpected onset of pneumonia, which Marlowe's weak body could not fight, took his life.  Pat, Mark and I are extremely blessed to have had that wonderful final visit.
With the support and input of Marlowe's family, friends and colleagues, I intend to serve as writer and editor in order to create a book entitled, A Blueprint for Success: The Life, Leadership and Legacy of Marlowe Senske.  The book will obviously include lessons learned from Marlowe's life, leadership and legacy.  There are thousands of ways such a book could be used to not only honor Marlowe, but also provide a blueprint for success that will benefit all who read and study the concepts and success principles within the book.  We may also include tributes, written by colleagues, friends and family.
If you knew Marlowe and would be willing to visit briefly by phone, sharing your perspectives, experiences or stories regarding Marlowe, please contact me.  If you know people who knew Marlowe, please send this tribute to them.  I respectfully invite all who knew Marlowe to contribute content to this lasting tangible tribute.  Proceeds from the book will support The Marlowe Senske Servant Leader Scholarship, which is being established in collaboration with The University of Minnesota.  If you would like to contribute to The Marlowe Senske Servant Leader Scholarship, please make your check payable to "Minnesota Medical Foundation – Marlowe Senske Scholarship."  Please send your check c/o Jerry Nye, 9616 Oxborough Rd, Bloomington, MN 55437.
Marlowe gave the ultimate gift to his family, friends, colleagues and those organizations he served.  He gave himself.  The world is a better place because of Marlowe Senske.  Healthcare leaders and healthcare organizations across America are more successfully achieving their missions because of Marlowe Senske.  Family, friends, colleagues and all who had a relationship with Marlowe are better for it.  People who never met Marlowe, but are being served by healthcare organizations Marlowe served and influenced, are benefiting… this very day… and for decades to come… because of Marlowe Senske.
That, my friends, is the Life, Leadership and Legacy of Marlowe Senske!