Testimonials: Presidential Leadership Book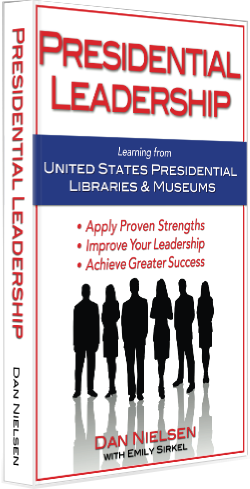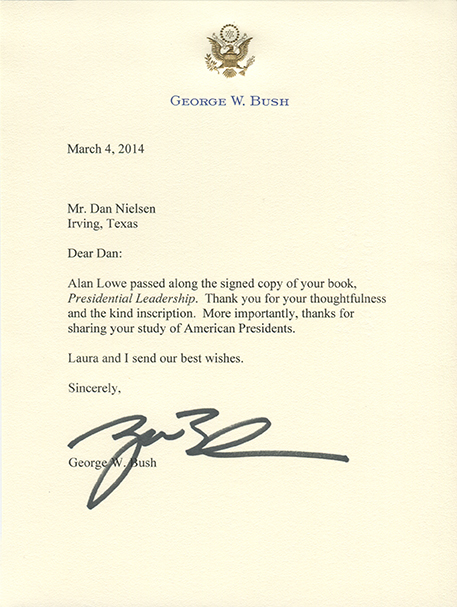 "Nuggets of intriguing facts you didn't know you needed to know.  Photos that put you in the front row.  And inside stories that inspire you to model the strengths of each president.  Hats off to Nielsen for bringing history to life—and more importantly for highlighting the leadership lessons to be learned from each president!"

 – Dianna Booher, author of Creating Personal Presence: Look, Talk, Think, and Act Like a Leader and Communicate With Presence
"Dan's book is a high level tour of the libraries and museums of some of our best-known presidents. It offers a glimpse of the presidents' personal history and upbringing, as well as the challenges they faced during their terms in office. Most importantly, the book provides valuable insight into the leadership principles the presidents developed and applied in their lives. This book will be a valued resource and reference to those interested in American history as well as lifelong students of leadership."

– Jerry Nye, Executive Vice President, C-Suite Resources
"Presidential Leadership is a well done, thought-provoking, and informative book with wonderful inspiring quotes from each President.  This is a tremendous effort with exceptional photos and additional truly beautiful photos available online.  Once you read this book, one cannot help but continue to think about how much more there is to learn about leadership and how to incorporate the facts, tips, and suggestions contained in the book to achieve greater personal success.  This will be a gift worth purchasing for myself, executive friends, and  really anyone who aspires to be a leader on any level.   Very insightful and an unbelievable capturing of Mr. Nielsen's amazing journey and photographic excellence.  Thank you for this contribution!"

– Nancy Swain
"Presidential Leadership is a valuable book to have on your shelf!  Dan puts the applied proven strengths together on each of our past U.S. Presidents by what he learned from visiting every U.S. Presidential Library & Museum.  An educational yet inspiring read that will make you want to improve your own leadership skills as you tackle each President's story."

– Rebecca Crownover, author of My Daddy Is In Heaven With Jesus and Texas Farm Girl
"Dan Nielsen is a regular contributor for The Journal of Healthcare Contracting and a sought-after speaker in the industry, so I was eager to dig into Presidential Leadership: Learning from United States Presidential Libraries & Museums. The book offers a great mix of history and leadership lessons that readers will find insightful for their own development."

– Graham Garrison, Managing Editor, JHC
"I love your book. Very well written. Clear, concise, positive, uplifting, and definitely non-partisan. It made me want to keep reading. I learned lots of juicy tidbits. It takes great courage and talent to be president, and this book reminded me of that. Thank you for writing this excellent book."

– G. Dunlap
"Dan, this book is a masterpiece. It is a stroke of genius to use the experience and wisdom of our U.S. Presidents to share the time-tested and proven principles of leadership."

– William E. Hyche, author of The Right Moment: A Collection of Quotations for Living an Inspired Life
"This book is a pleasant change from our daily experience. Currently we live in an atmosphere where we hear more bad things than good things about our government leaders. I really enjoyed the way this book focuses on the leadership qualities that helped these men rise to the most prestigious position in the world, President of the United States of America. The authors do a great job of showing us the characteristics we should develop in our own lives if we aspire to become good leaders."

– Rachel Roberts Robinson, author of Riding With Faith: Encouragement for Christian Horsemen
"Dan, thank you so much for writing this book… it is so interesting! Congratulations on a wonderful book."

– Bette Coolidge
"Presidential Leadership contains great insights into the leadership of the presidents—awesome stories and history lessons I never knew about! This book can certainly be used for stimulating discussion about the leadership of America's former leaders and what can be learned from them."

– Renee Hastings, Morrison Healthcare
"Written in a way that compels the reader to want to know more, Presidential Leadership is truly fascinating. Dan Nielsen's brilliance in writing this unique work is further evidence of his ability to inspire curiosity and a thirst for knowledge in others. The format is perfect for personal reading or for use in group settings, ideal for anyone who desires to learn from the leadership strengths demonstrated by these highly successful leaders."

– Amy Schornick, Vice President, Payor Relations and Contracting
"Excellently researched and presented without political bias — the emphasis is on leadership skills and how those assets can be utilized by individuals in their own lives. Easy to read! Gives great insight into the stories of the presidents as presented in the libraries, and especially the qualities that made each of them successful in reaching their goals."

– Judy White
"How many times does an author tell you to turn to the back of the book to start reading? Outstanding concept! That set the tone of the book. Wonderfully written, easy to read. The book portrays leadership qualities of each president, points out how these strengths helped the president during a time in his life or his term as president, and leaves all the politics to the politicians. Each chapter has a "did you know" section that brings up specific points about the president portrayed in that chapter – very interesting nuggets. By following the author's lead in turning to the back of the book first, it focuses on a success system – demonstrating how you can focus on and improve your strengths, for your greater success. Really enjoyed this book."

– Jeff Sims, Examination Management Services, Inc.

"Presidential Leadership is full of leadership lessons from some of the world's most influential leaders, compiled and written by a life-long student of leadership, Dan Nielsen. Dan has gleaned the very best from some of those whom we admire most – United States Presidents."

– Bob Furman
"As I went through Presidential Leadership, there was a theme that rang clear for me as I began to read about each of the presidents; I was compelled to ask myself a question, and that question was, 'What legacy will I leave?' As I read about each president I thought about the legacies each forged as a leader, and it made me think about my own leadership legacy. Reading this book has caused me to give additional consideration to what I want to accomplish in my career and to what I need to do to become a better leader. Thank you for the inspiration!"

– T.J. Grassetti System Director, Banner Health
"Dan Nielsen's Presidential Leadership is a rewarding read for anyone who would enjoy a quick, non-political look at the leadership qualities of 14 of our Presidents. In addition to educating the reader on effective leadership qualities that can make you a better manager, supervisor or parent, it may also arouse your interest in learning more about some of these Presidents and visiting some of their libraries. Reading Dan's book will definitely be time well spent."

– Bob Chrampanis
"I have enjoyed this book very much! I like the format and the way the author defines the leadership qualities and how we can apply those qualities as our personal assets."

– Deanee Brinkley Oliver
"Presidential Leadership is a tremendous tribute to our presidents and our beloved country. I particularly enjoyed the quotes and the "Did You Know" facts throughout each chapter. I hope to see more from this author soon!"

– Kate B. Clark, Asst Director, Delivery System Improvement at UT Southwestern Medical Center
"Dan puts timeless leadership principles in a context we can easily relate to. I also thoroughly enjoyed the history lessons as Dan shared his journey through the Presidential Libraries and Museums. I have a greater appreciation for the leadership demonstrated by each of the 14 Presidents included in the book and a greater understanding of how I can put the principles to work in my own life."

– Pam Bilbrey, author of Ordinary Greatness: It's Where You Least Expect It…Everywhere
"This book takes a welcome approach to examining some prominent, not-so prominent, and infamous leaders of our nation's past but through the open eyes of non-partisanship. The author examines the leadership strengths exhibited throughout the lives and not just during their presidencies of just over a dozen US Presidents. We get a glimpse into what shaped their leadership styles, who they were as real people, and why they are leadership role models. The book leaves behind negativity associated with failures these leaders experienced, to instead focus on the positive take-aways and encourage readers to aspire to greater leadership skills by understanding how each of us has the potential to become a great leader in our own right just by the traits we naturally possess. Super easy to read, and well worth the time."

– Lisa R. Ford
"I really enjoyed this refreshing and interesting approach to describing the leadership traits of our former US Presidents. This book was interesting and an easy read. I would definitely recommend!"

– Melissa (Amazon reviewer)
"Dan Nielsen does a good job showing us what it takes to be a strong and successful leader. He pinpoints the traits and characteristics needed for us to become our best. It is also full of good historical information and stories about the presidents."

– Amy Renee Cole
"I happened to visit the John F. Kennedy library about a week after it opened. I was favorably impressed by its design and location, and as I wandered through the many exhibits, thinking about President Kennedy's dramatic life, I relived how his presidency had affected me. Of course, there was the shocking assassination, but I especially remembered his eloquent speeches. So I was surprised by one of his report cards, and I lingered for a while, staring at some rather low marks. I remember thinking — Are those really his grades? Shouldn't a president have the best grades, not average or poor grades? How could that be his report card, when he was such an eloquent speaker?

This book makes abundantly clear that presidents bring a variety of talents into public office. "Intelligence" is not first on the list; in fact, it's not one of the highlighted leadership strengths. Instead, one is directed toward people skills, discussing qualities such as "candor," "humility," and "perseverance."

The author has a companion website which seems particularly well-designed and features many excellent photos."

– Gilbert Grant 
"I thoroughly enjoyed reading Presidential Leadership!!  The book is so well written and paints such vivid pictures of each library and the exhibits.  I feel like I've been to each of them.  I especially liked the 'Did You Know' facts and the extensive resources provided.  The 'Call To Action' is a unique tool that is useful and practical.  It was interesting to learn about the lives of the men that have lead our country and sure makes one appreciate their contributions.  I have referred to the book on several occasions and will make it available to my granddaughter when she studies American history during her school years."

– Sue Adams
Order your copy now!