These last few weeks we've been talking about the importance of giving authority, refraining from micromanaging, and encouraging appropriate independence and autonomy. These are all things that require trust.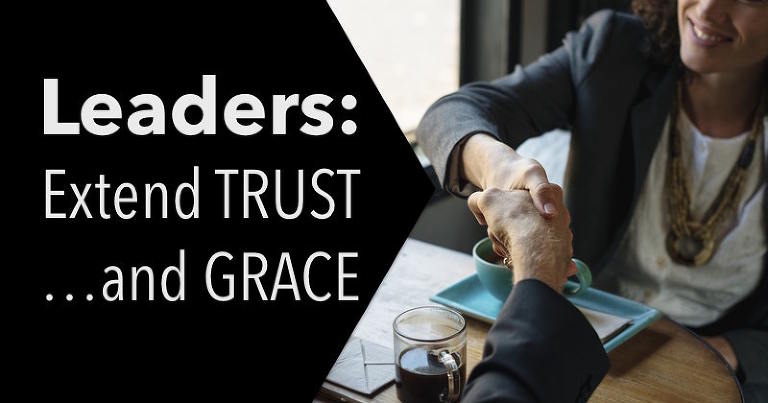 Without trust, leaders are hesitant to delegate tasks, and try to retain as much control as possible—which not only causes them unnecessary work and stress, but also stifles the growth, development, and success of those they lead.
I think Bob MacDonald does a great job of explaining the important role of trust:
"A leader empowers others by trusting others. Trust is built when an employee is assigned a task and then given the support, tools and authority to complete it. If a leader exhibits trust in the employees to do their job—by avoiding hovering over them and micromanaging—then the employee feels empowered to make a difference and has incentive to do the best job possible."
But what happens when a leader extends trust and gives authority to an employee, and that employee stumbles—or fails completely? That's definitely a risk that comes with empowering those you lead. However, that risk of failure is itself a key component of empowerment: some of the greatest growth comes as a result of mistakes and failed first attempts, and empowerment is all about growth and development.
Inspirational leaders are not only willing to take on the risk associated with empowerment, but when mistakes are made, they respond with grace. They choose to view failure as a learning opportunity and growing experience, and they generously give second chances.
Conclusion:
Very few people thrive or grow in a micromanaged environment where the leader attempts to control the outcome by dictating behavior and actions to match his or her preferences.
Inspirational leaders, while always engaged and supportive, know the value in giving authority, taking a step back, and trusting those they lead to make decisions and take appropriate risks. And when mistakes do happen, it's okay; they respond with grace and encouragement, offering another chance to grow and learn.