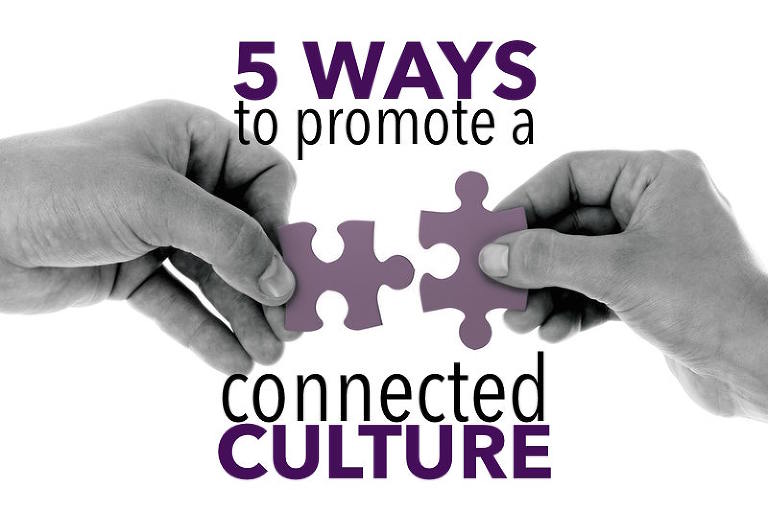 Last week we talked about building connections and cultivating authentic relationships. This week I want to share 5 ways in which leaders can promote connection throughout their organization—fostering a healthy, connected workplace culture:
Be proactive when hiring. When interviewing potential new team members, make sure to focus on culture-fit as much as or even more than skill. Skill can be taught, so put more emphasis on finding people with the right character and values to connect with your team's culture.
Facilitate collaboration. Design projects and plan assignments that allow for teamwork and collaboration. Be careful not to inadvertently isolate team members by giving them assignments that don't require connection and interaction with coworkers.
Celebrate successes. Publicly recognize, affirm, and celebrate work well done, goals that have been achieved, and any other praise-worthy contributions and accomplishments. Emphasize group effort and celebrate as a team, as well as expressing appreciation for individual contributions.
Foster mutual respect. In every meeting and team interaction, consistently model respect and support of others' input and ideas, and make it clear that you expect the same from everyone on the team.
Encourage camaraderie. Plan get-togethers outside of work throughout the year, and inject fun into the workweek whenever possible—movie trivia to start off long meetings, silly socks day once a month, birthday shenanigans for every team member's special day, etc. Let loose, be creative, and encourage your team to do so too!
Demonstrating and encouraging healthy and authentic relationship building is a critical responsibility of every leader. As with everything, a healthy, connected culture starts at the top—as a leader, you set the tone for the entire organization.
How are you promoting connection within your workplace?
[This article is adapted from Chapter 10 of my book, Be An Inspirational Leader]