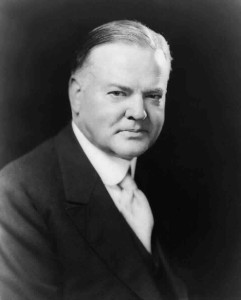 Herbert Hoover rose from his humble beginnings as the son of a blacksmith and a seamstress in West Branch, Iowa, to become a successful mining engineer, multi-millionaire, international humanitarian, and the 31st President of the United States.
Born into poverty and orphaned as a young boy, Hoover was determined to make a better life. In his own words, Hoover's boyhood ambition was "to be able to earn my own living, without the help of anybody, anywhere." Raised a Quaker, he soon learned the value of hard work and integrity. Hoover grew to be an intelligent and earnest young man who earned his way into the pioneer class of Leland Stanford Junior University, which opened in 1891.
Hoover graduated from Stanford as a mining engineer, but his first job out of college was anything but glamorous – shoveling ore in a California mine for $2/day. Hoover's determination and perseverance saw him through the backbreaking labor, and in 1897 he got the big break he needed – the London firm of Bewick, Moreing was seeking a geologist.
Included among the requirements for the geologist position were that applicants be at least thirty-five years old and possess "a lifetime of experience." Determined that this was the opportunity he was looking for, twenty-three year old Hoover grew a beard, donned a top hat and tweed suit, and applied. He landed the job. This first chance at engineering led Hoover to the Australian Outback and served to catapult his career as a mining engineer.
Over the next two decades Hoover built his fortune and fulfilled his childhood dream of self-reliance and freedom from poverty. His goal of making a better life for himself accomplished, Hoover began to yearn to make the lives of others better as well. World War I presented the opportunity for him to use his talents and influence for public service, and so he began a life of humanitarianism that produced dramatic results that extended across the world and far outlasted his lifetime.
Hoover became renowned for his work "feeding the world" and improving government efficiency as the U.S. Food Administrator, Director General of the American Relief Administration, and the Secretary of Commerce. Hoover made a significant impact as he held those as well as a number of other government positions between 1917 and 1929. The determination, perseverance and vision Hoover fostered as a young man continued to serve him as he became a much-loved international hero.
In 1929 Hoover reached what many consider the pinnacle of success – he became President of the United States of America – a long journey from the little cottage in West Branch, Iowa where he was born five and a half decades earlier. Sadly, Hoover's presidency coincided with the infamous stock market crash of 1929 and the subsequent recession that became known as the Great Depression. Unable to cure the woes of the nation, Hoover was soon tagged as the scapegoat of the Great Depression, and his former popularity and luster vanished.
Unsurprisingly, Hoover lost re-election to the charming Franklin D. Roosevelt, and in 1933 the nation's former hero left the White House in defeat. But Hoover wasn't finished; he was down, but he wasn't out. Regaining his focus and devoting his post-presidency years again to international humanitarianism as well as service to the local community, Hoover's determination once again rose to the surface. Applying his talent and experience to the challenges America faced during and after World War II, Hoover again helped to improve the welfare of millions in need. Hoover also made significant contributions to several American institutions through service and funding, including his alma mater – Stanford University – and the Boy's Clubs of America.
By the time of his death in 1964, Hoover had regained much of his former esteem. At his funeral, the Quaker theologian who gave the eulogy said of Hoover, "His story is a good one and a great one… It is essentially triumphant."
No matter your opinion of our 31st President, you should take a lesson from the determination and perseverance of Herbert Hoover; what incredible heights can be reached and what remarkable things accomplished if you don't give up!