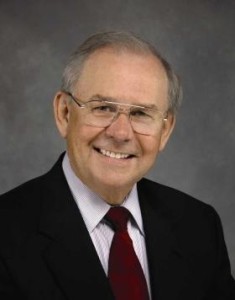 After forty-three years of service at Stormont-Vail HealthCare in Topeka, Kansas, Maynard Oliverius is retiring.  That is not a misprint.  Oliverius has been at Stormont-Vail Healthcare for 43 years!  He has spent the last sixteen years of this unusually long career within one healthcare organization as the President and CEO.  During a recent interview I conducted with Oliverius, he described his career as follows: "On balance, I've had a great career."
What makes a great career?  How is a successful career measured?  Is it moving up, gaining power, reaching the top, making significant money, all of the above – or something else?  For Oliverius, it is being able to do something he loves and is proud to be a part of.  "In healthcare we are entrusted with the opportunity to take care of the most important possession that someone has – their own life! There is no greater responsibility than caring for those who place their lives in your trust, and no greater reward than working with a team of people who honor that trust with skill, compassion and care. I have been privileged to have that career."
Though he acknowledges it hasn't been perfect, Oliverius maintains that overall, "I have had the career of careers," and he attributes his success to five key factors: his ability to maintain integrity and trust, a strong partnership with the board, high visibility and involvement with the medical staff and community, being a good listener, and delivering on commitments.
Oliverius has had a very successful career because he believes in and enjoys what he does.  Oliverius finds fulfillment in helping others, and he is dedicated to partnering with those he works with to fulfill the mission of the organization he serves.  He is engaged and involved with those his work impacts, enabling him to see real results from what he does.  Oliverius can honestly say that he has had "the career of careers" not just because he worked hard and advanced to the top or made a nice nest egg, but because he worked with purpose and because he lived his core values of honesty, integrity, respect, and trust.
What about you? If you were to look back on your career today, or imagine looking back on your career when you reach retirement, would you be able to say that you have had "the career of careers?"  Reflecting on the hard work, the enormous amount of time and energy, and the money and preparation you put into your career, would you be able to honestly say you worked with purpose and loved what you did?  Could you say with sincerity that you believed in and truly enjoyed your work?
Or are you one of the millions who have fallen into the trap of thinking and believing, "I will work now (at something I do not enjoy and do not love) so that I can enjoy my life later?"  Millions of people have bought into the terrible and destructive idea that "we do what we have to do now – whether we like it or not – in order to pay the bills and save up for retirement – which is when we get to really do what we want to do."
Have you sold out, and become a slave to that which does not truly interest, excite, and inspire you?
Why do people do this?  Why would we "waste" the majority of our lives – 40 to 50 years – working at something we do not enjoy so that we can supposedly enjoy the time when we no longer have to work?  This makes no sense at all.  Shouldn't we find ways to enjoy, love and leverage that huge chunk of our lives known as "career and work?"
"Well Dan," you might say, "if I could just get my dream job, then sure, I'd start enjoying my work!"  The documented facts are that many people who finally obtain their "dream job" suddenly realize that it's not their dream after-all.
So what's the point?  Take some wisdom and guidance from the life and career of Maynard Oliverius: pursue work that you believe in, you're proud to be a part of, and work to which you are willing to dedicate your time, attention, effort – your life!  It doesn't have to be a "dream job" to be fulfilling – if you commit to a life of service and to being engaged, involved, optimistic, and true to your values – you can and will find great enjoyment and fulfillment in your career!
By all means, do not wait for retirement!